THE DENNIS FAMILY OF HARDWICK, MASSACHUSETTS
Warren Edward Witzell, Jr. (known as "Nick") is the great grandson of Dahliaette Maria Dennis, called 'Dahlia". Dahlia was born in Hardwick, Massachusetts, where a branch of the Dennis family settled in the late 18th century and where many of them remain to this day.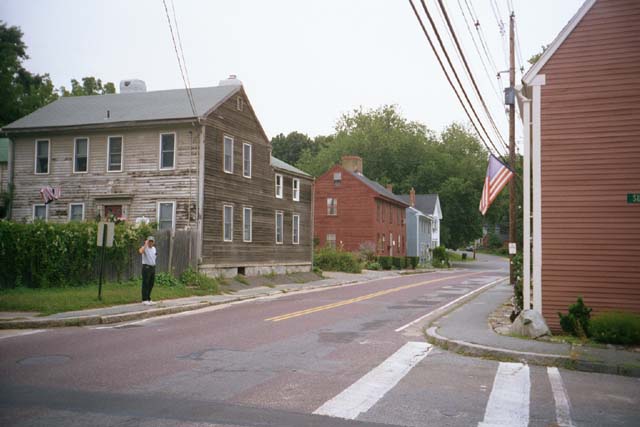 County Street, Ipswich, Massachusetts, with Nick Witzell, August 2001. The Thomas Dennis house is the red house in the center. The Dennis-Dodge House on the right of the photo was also owned by Thomas Dennis.
Dahlia was descended from Thomas Dennis 1st of Ipswich through his son Thomas Dennis 2nd and his son Thomas. Thomas Dennis 3rd left Ipswich, Massachusetts and became one of the earliest settlers of Sutton, Massachusetts, which is southwest of Worcester in a beautiful hilltop area of many farms. He was assigned the fifth seat in the Meetinghouse in 1731. He had a farm of 45 acres which was deeded to his only son Samuel April 5th, 1755, prior to Thomas' death in that year.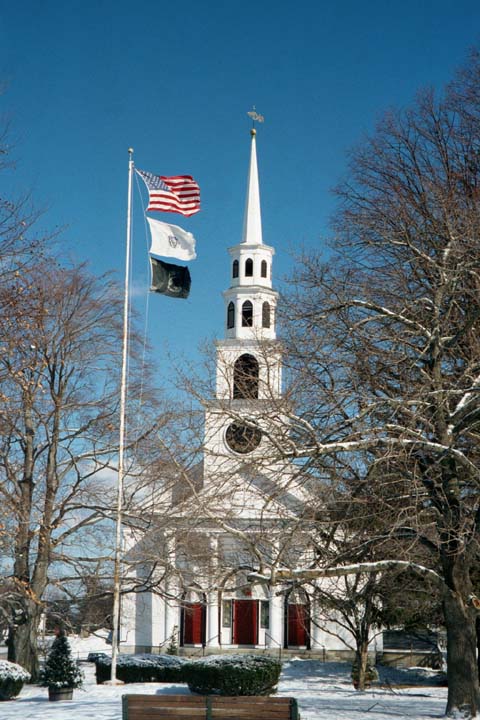 Sutton, Massachusetts, First Congregational Church, February 2001.
Samuel Dennis, who had been born in Sutton on April 3rd, 1732, married Patience Benham of neighboring Uxbridge. At some point in his life, Samuel became a Baptist. He moved to Petersham, northwest of Worcester, where he preached for several years. His son Adonijah, at the time when he became a soldier in the Revolution, was said to be "of Petersham", although he had been born in Sutton. Samuel then moved to Barre, which is east of Petersham, and then to Hardwick, south of Petersham, where he bought the Sears farm in 1777. He died there in 1784.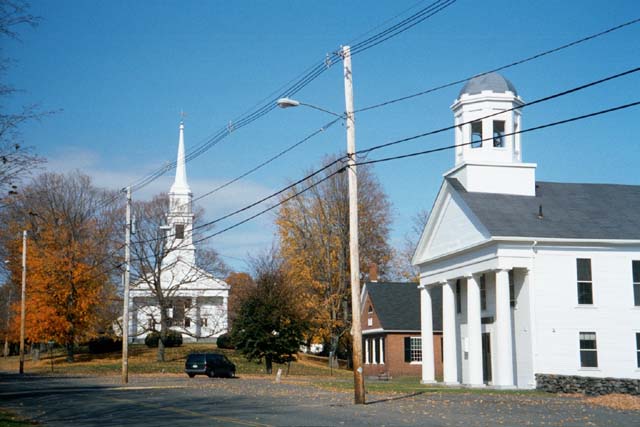 Hardwick, Massachusetts: Buildings on the east side of the Town Green: the Congregational Church, a brick school (now the historical society) and the Town House, October 2001.
Adonijah Dennis, the oldest son of Samuel, was born July 12, 1759, in Sutton. At age 18, he became a private in Captain Ezekiel Knoulton's Company of Colonel Dike's Regiment. In Massachusetts Soldiers and Sailors of the Revolutionary War, he is listed and the following information given: "Pay abstract for gun and blanket money dated Dorchester Heights, March 31, 1777." Apparently this is his enlistment date. He served in the battle of Stillwater, New York, part of the battle of Saratoga.
Adonijah and his father Samuel were involved in Shay's Rebellion, as were about 60 others from Hardwick. The Rebellion concerned debts owed by farmers to storekeepers and merchants for manufactured goods. Many farmers were thrown off their land by the courts for lack of cash to pay these debts. The Rebellion ended in Petersham and the men from Hardwick were given amnesty in 1787.
On November 9th, 1780 Adonijah married Eunice (or Unice) Sibley in New Salem, Franklin County. New Salem is northwest of Petersham and Hardwick. He inherited the Hardwick farm purchased by Samuel, became a farmer and raised nine children. Eunice died on September 15, 1842 and was buried in the Central Cemetery in Hardwick. Adonijah died two years later on September 30, 1844.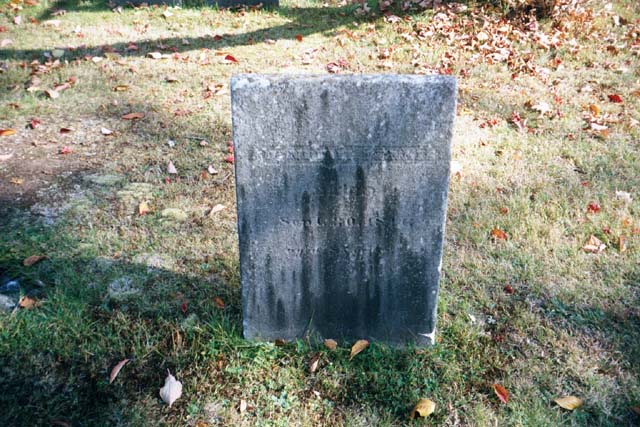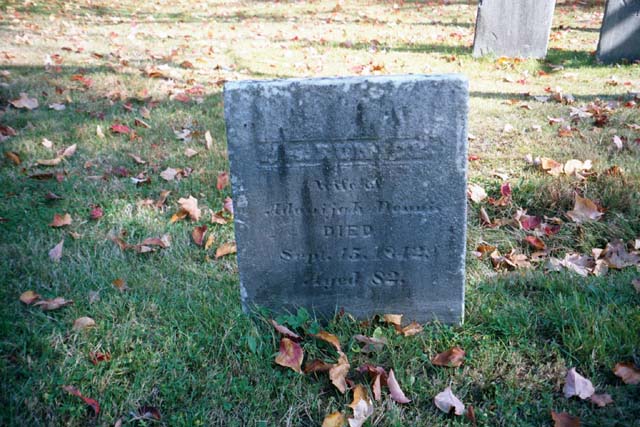 Graves of Adonijah Dennis (left) and Eunice Dennis (right), Hardwick Central Cemetery, October 2001.
His youngest son, also called Adonijah, was born in Hardwick on October 4th, 1803. He married Julia Ann Collins, born in 1807 in Charlestown, Massachusetts, on September 11, 1827 in Hardwick. He was also a farmer and a selectman and assessor for the town. His religion was listed as "Calvinist"; there is a Calvinistic Congregational Church in Hardwick. He and Julia raised eleven children. Adonijah 2nd died on March 21, 1881. Julia had died in 1858.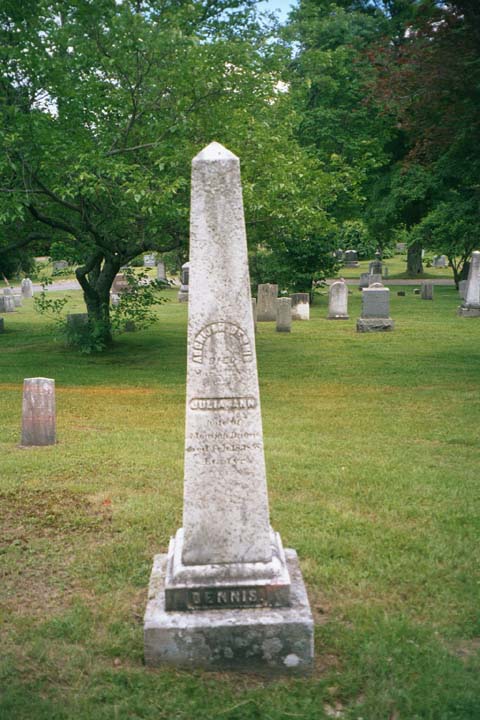 Obelisk of Adonijah2 and Julia Ann Dennis, Hardwick Central Cemetery, July 2001.
Many of their children remained in the Hardwick area and are buried in the Central Cemetery, Hardwick. Samuel S. Dennis was a prosperous farmer and owned a 400 acre farm with a good sized herd of cows. An 1899 book list the following information about Samuel S. Dennis: "Farmer at Hardwick, MA. Attended Warren and New Salem Academies. Taught school at intervals for 11 years. Enlisted 1862 Co. K 42nd Massachusetts Volunteer Regiment, afterward in pontoon service. Spent 11 months in Civil War, then returned to farm….Selectman for 34 consecutive years. Chairman of the Board of Selectmen for all but 1 year. Served in State Legislature 1866. Member of the GAR post."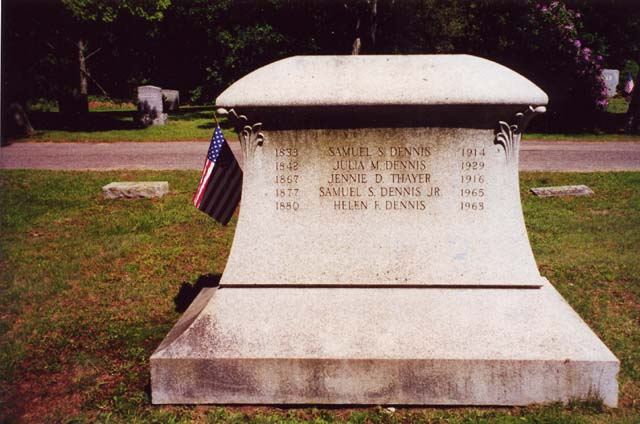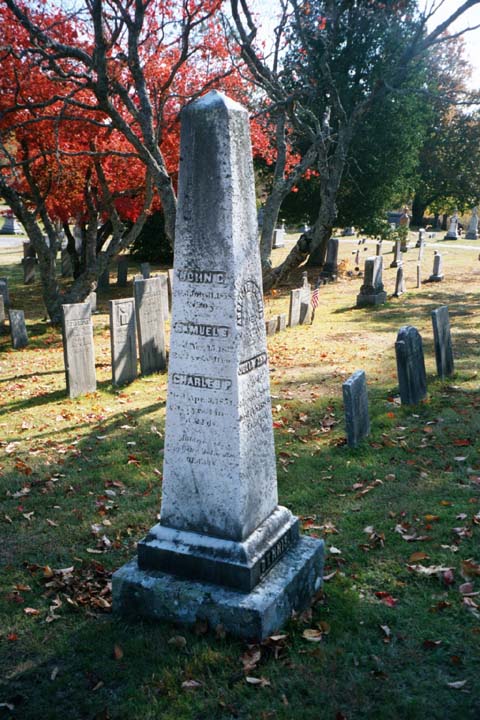 Top photo shows the grave of Samuel S. Dennis. Below is a photo of the side of the obelisk of Adonijah2 and Julia Ann Dennis, with the graves of Adonijah1 and Eunice beyond, Hardwick Central Cemetery, October 2001.
Julius A. Dennis was the ninth child of Adonijah and Julia Ann, born December 1, 1844. He continued the tradition of farming and was obviously a prosperous man. He married Elizabeth Knight October 8, 1868 in Hardwick. Julius died April 6, 1906 and Elizabeth died March 6, 1930.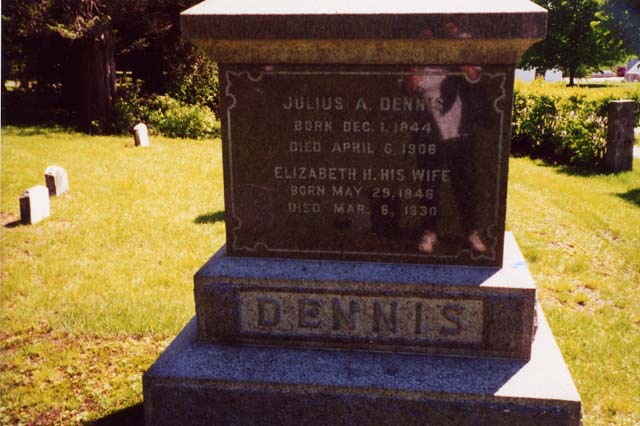 Gravestone of Julius A. Dennis, Hardwick Central Cemetery, June 2000.
Julius and Elizabeth had seven children, six of whom were girls. The seventh, a boy, died at birth. Their daughter, Dahliaette Maria Dennis, born on March 11, 1875, was the fourth daughter. Annie Louise Dennis, born September 20, 1879, was the sixth daughter. Dahlia married Walter Kenerson, probably in 1890 or 1891. They had two children: Clarence Whitfield Kenerson, born in Barre, April 8th, 1892 and a daughter, Helen, born in 1897, who lived less than a year. Dahlia died in 1904.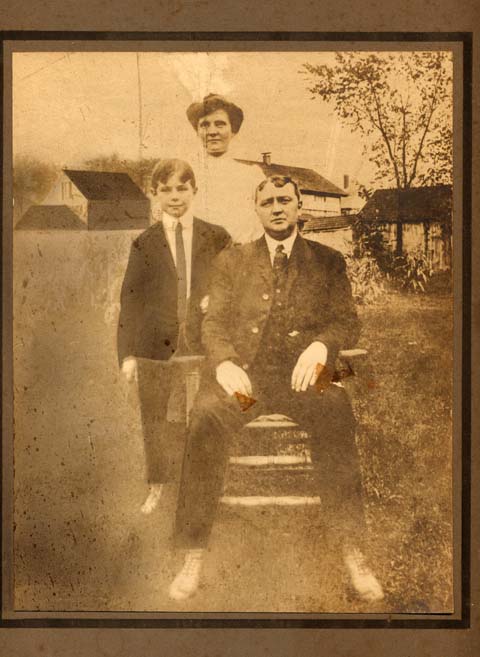 Clarence Kenerson, Dahlia Dennis Kenerson and Walter Kenerson, about 1900.
Walter Kenerson was descended from the Kenerson and Burnham families, late 17th century settlers of southern Maine. His father, Isaac, was a railroad engineer, whose family had become residents of Palmer, Massachusetts, a major depot on the Boston & Albany Railroad. Walter also worked for the Palmer railroad station, as a baggage and freight manager. His son Clarence Kenerson, Warren (Nick) Witzell Jr.'s maternal grandfather, was a railroad engineer for the Boston & Albany but settled his family in North Brookfield, east of Hardwick. Many of his children and grandchildren still live in the Brookfield area.
The older children of Clarence Kenerson often visited their great aunt Annie Louise Dennis (the younger sister of Dahlia) in Old Furnace, Hardwick, at the house shown below. There did not seem to be any family memory of the 17th and 18th century Dennis ancestry in its specific details. It was not until we began to research the Kenerson and Dennis genealogies that we discovered the connection back to the famous joiner of Ipswich, Thomas Dennis.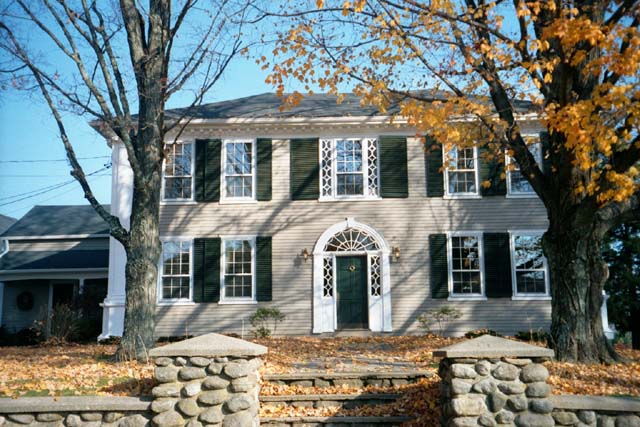 The elegant late 18th century Federal style house in Old Furnace (Hardwick) Massachusetts, formerly owned by Julius A. Dennis, who bought it in 1877. His daughter Annie Louise was born there in 1879. She married her first cousin John G. Dennis, who bought the house in 1914 following the death of Julius in 1906. John died in 1952 and Annie continued to live in the house until the 1960s. She died in 1969. The house has had a number of owners since then and has recently been restored.
All modern photos Copyright 2001 Susan Fletcher Witzell.